The US Silver Market Just Experienced 2 Significant Developments: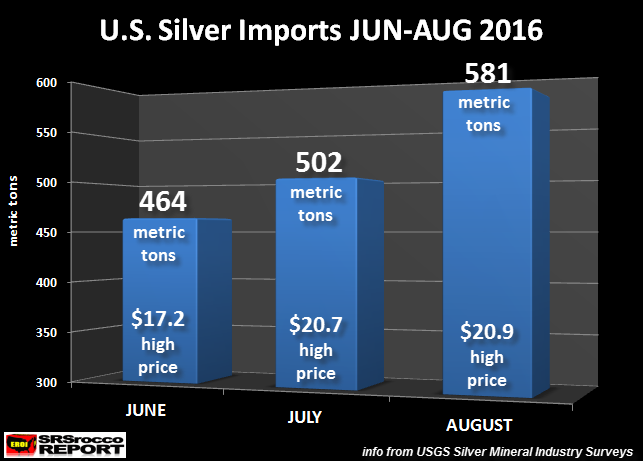 Well, THIS is interesting: 
From SRSRocco:
According to the USGS most recent report, the U.S. silver market experienced two significant developments in August.  From the data published in the USGS August Silver Mineral Industry Survey, U.S. silver production declined significantly while silver imports surged to near record highs.
First, U.S. silver production in August is down a stunning 14% compared to the same month last year and down 10% versus the previous month: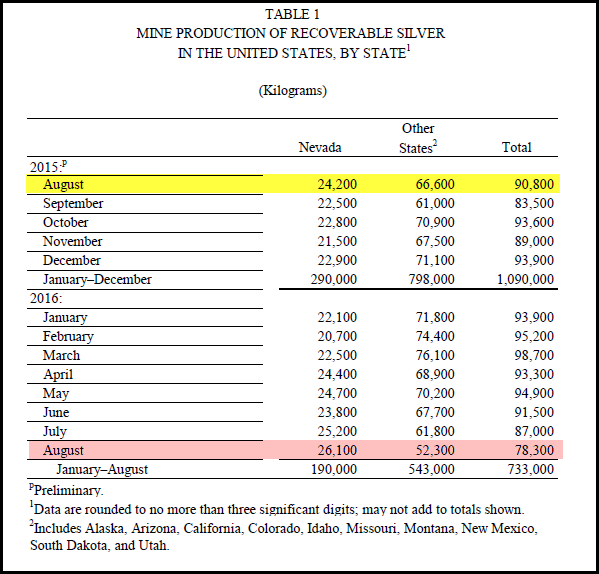 This is certainly a big decline compared to the trend earlier in the year where the average U.S. silver mine supply was approximately 95 metric tons a month.  What makes this quite surprising is that the price of silver hit a high of $20.7 in August, nearly $5 higher than during January-March.  So, why is U.S. silver production declining so much as the price continued higher??
I called up the USGS Silver Specialist and left a message on their answering service as to the details why silver production in the U.S. declined so much in August.  If I receive a reply, I will update the post.
Secondly, the U.S. silver imports hit a near record high of 581 metric tons (mt) in August versus 502 mt in July and 464 mt in June: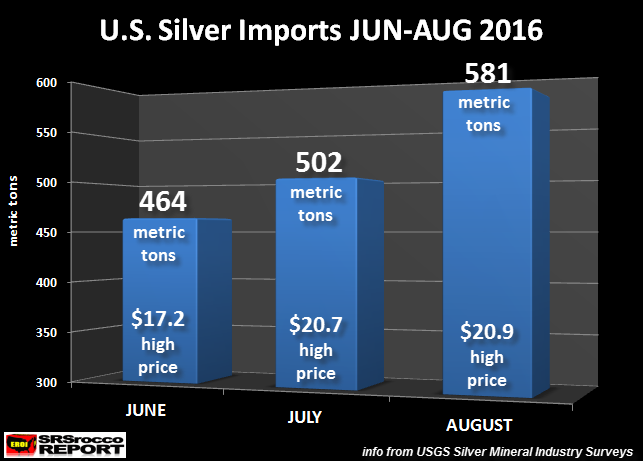 2016 Niue Gold Rush Antiqued Proof With 24k Gold "Nugget" 

This large jump in U.S. silver imports is interesting as demand for the iShares Silver ETF was basically flat in August.  Even though the SLV ETF silver inventories surged during the first half of the year, it was relatively flat in July and August.
What I found also quite interesting is that the U.S. imported 55 mt of silver from Poland in August which was half of their total monthly mine supply.  Poland produces about 105 mt of silver a month.  Normally, Poland exports no more than 10-20 mt of silver a month to the United States.
For whatever reason, U.S. silver imports surged as the price hit a record high of $20.7 in August.  As I mentioned, this silver did not make its way into the iShares Silver SLV ETF as their inventories remained flat.  So, where did it go?
Well, according to the information from the COMEX, total inventories on the exchange increased from 153 million oz (Moz) at the beginning of August to 163 Moz by the end of the month.  Thus, the COMEX silver inventories increased 10 Moz or 311 metric tons in August.  Thus, some of the nearly 80 metric tons imported by the United States in August made its way into the COMEX silver inventories.
Of course, that is if the COMEX holds all the silver it states in its inventories or if each silver bar doesn't have several owners.
Regardless, to see such a large decline in U.S. silver production in August was quite surprising.  Furthermore, the Silver Institute just put out their 2016 Interim Silver Report which they state that world silver production is forecasted to decline in 2016.
Unfortunately, once U.S. and global oil production starts to head south in a big way, world silver production will most certainly follow suit.  More about this in future articles.
Lastly, I will begin posting articles by The Hills Group on the oil and energy market this weekend.  Bedford Hill of The Hills Group, has a wealth of knowledge on the oil industry, their ETP Oil Model as well as other aspects of the energy industry.  I will be posting The Hills Group short response to the USGS announcement of a new 20 billion barrel oil resource in the Wolfcamp Shale formation in Texas.
Buy 2017 Silver American Eagles at the Lowest Price Online
1