THE TIDE HAS TURNED: HUGE Silver Miner Reports First Profits In 3 Years!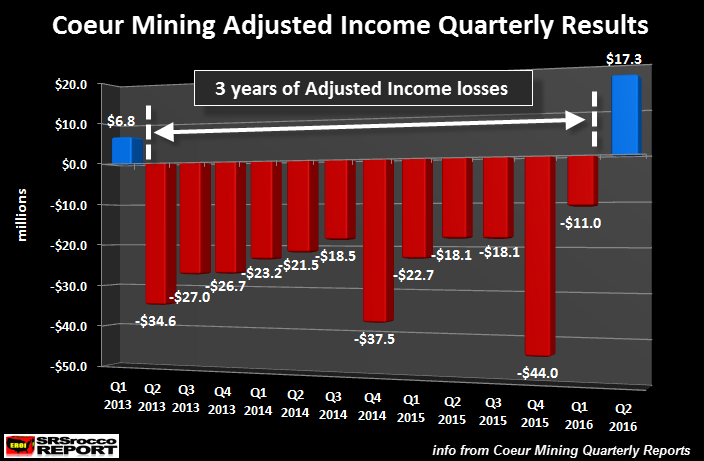 The Tide Has Turned…
 Theodore Roosevelt 5 oz Silver ATB
From SRSRocco: 
It looks as if the TIDE HAS TURNED as one of the industry's large silver producers finally reported its first profit after three long years.  Coeur Mining reported a $17.3 million adjusted income profit in Q2 2016 compared to an $11 million adjusted loss in the previous quarter.
This is truly a significant trend change as Coeur Mining has suffered 12 consecutive quarters of adjusted income losses.  The last time Coeur stated a profit, was in the first quarter of 2013 when it reported an adjusted income gain of $6.8 million: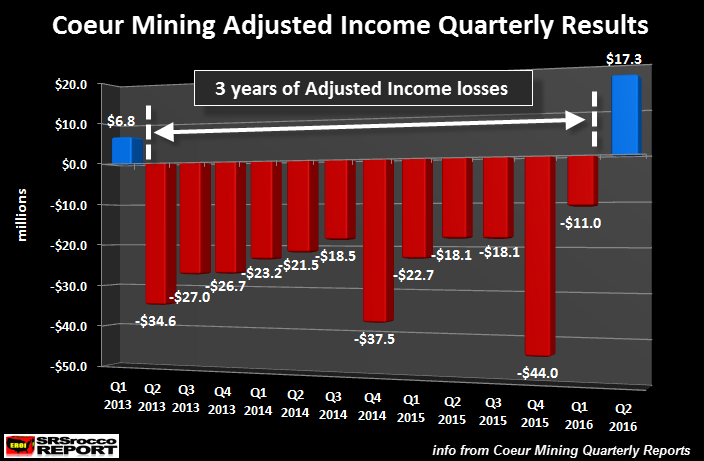 The reason I use "Adjusted income" rather than "Net Income" because it removes any impairments, right-offs or various items that aren't directly associated with the day-to-day costs of mining silver.  That being said, Coeur Mining lost a total of $303 million in adjusted income from Q2 2013 to Q1 2016.  That is one hell of a lot money to lose or silver to give away as the Fed and Central banks print money and digital currency at will.
During the three years from 2013 to 2015, Coeur produced 50 million oz (Moz) of silver.  If we divide their total adjusted losses of $303 million by their total production, this is the result:
Coeur Total Adjusted Income Losses = $303 million / 50 Moz
Coeur Total Adjusted Income Loss Per Oz = $6.06
So, as the Fed and Central Banks continued to print money, loot third world countries and funnel liquidity into stocks, bonds and real estate, Coeur lost an average of $6 for each ounce of silver it produced in that three-year time frame.
WHAT A FRICKEN DEAL…. AYE?
Coeur's Silver All In Sustaining Cost Is Based On The Oil Price
To understand Coeur's cost to produce silver, we have to compare it to the price of oil.  While Coeur's "All In Sustaining Cost" for producing silver is a good guideline, it does not include all costs.  Also, they use what is known as "Silver Equivalent" accounting.  This means, they take all their gold and base metal by-product sales and convert it to silver equivalent ounces.
For example, Coeur produced 4 Moz of silver, but when we add in their gold and base metal production, they report a total of 9.6 Moz of silver equivalent production.  This may be a convenient way for the company to report costs, but to me… it confuses inexperienced investors.
Regardless, if we look at Coeur's All In Sustaining Cost (per silver equivalent oz) and compare it to the price of oil, we see a similar downward trend: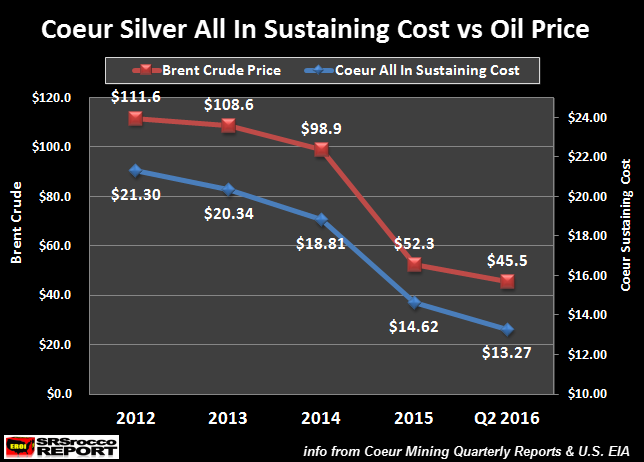 Even though the Brent Crude oil price has fallen more in percentage terms than Coeur's All In Costs, the trend is quite similar.  We also must consider that inflationary costs in labor, equipment and other materials aren't falling (some likely rising) as much as the oil price.  Thus, Coeur's All-In Costs are only down 38% since 2012 versus 59% for oil.
As the price of Brent Crude continued to fall to $45 a barrel in the second quarter of 2016 while the price of silver increased, Coeur made a $17.3 million adjusted income profit.  According to my "Estimated Breakeven Analysis", Coeur's total cost to produce silver was $15.52.  Coeur received a realized price of $17.38 in Q2 2016… thus their estimated profit per ounce was $1.86.
Let me break this down more simply:
Coeur's Q2 2016 Realized Silver price = $17.38
Coeur's Q2 2016 All-In-Sustaining Cost = $13.27
SRSrocco Coeur's Estimated Break-Even = $15.52
The reason my Estimated Break-even cost is higher than Coeur's All-In Sustaining Cost is because they are using silver equivalent accounting.  Coeur's revenues were 43% silver and 57% gold & base metal.  Coeur made profits on their gold and base metal sales that are separate from silver.
Actually, Coeur made more profits on their gold than silver.  Coeur's net gold revenue (not including smelting costs) was $111 million versus $70 million for silver.  So, we must remove gold revenue and costs to get a more realistic estimated silver cost per oz.  Coeur sold 88,543 oz of gold and 4 Moz of silver in Q2 2016.  Coeur cannot sell 9.3 Moz of silver equivalent metal into the market. There is no such thing.  No smelter or refiner will take silver equivalent metal.  They will take silver, gold, lead, zinc and copper.
Coeur's Stock Price Is One Of The Best Performing Silver Miners In The Industry
Regardless, we can applaud Coeur for finally making a decent profit producing silver.  The rising silver price has made Coeur one of the best performing mining stocks in the industry. Coeur's stock has increased seven times since its monthly closing low of $2.21 in January: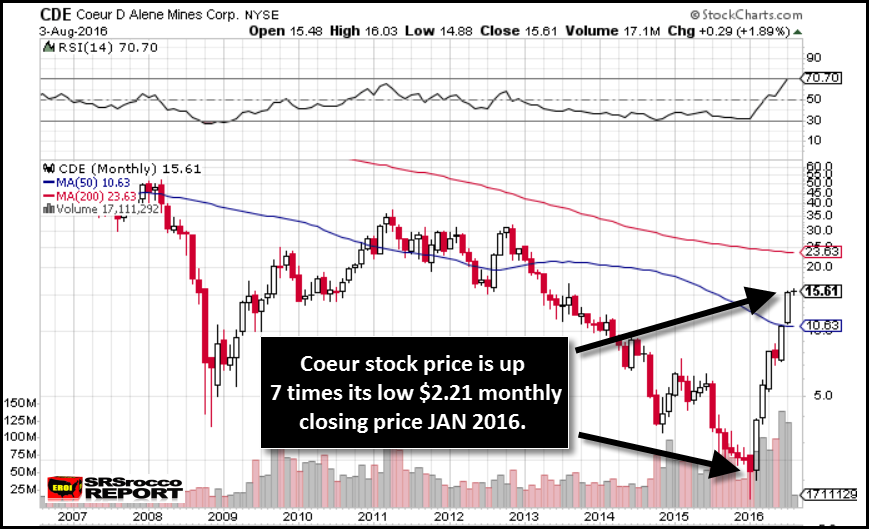 Most of the 12 primary silver miners I follow are up between 2-5 times their Jan 2016 lows.  Coeur's share price is ranked on the top by increasing seven times its Jan low.
It will be interesting to see how these primary silver miners perform going forward as the price of silver continues to rally over the next several years.  Even though we may see a correction lower in the silver price for a while, physical silver and the silver miners will be some of the best performing investments to own in the future…. according to my opinion.
Lastly, when the financial and economic markets finally crack, investors flocking into precious metals will find it difficult to acquire physical silver.  Thus, many investors will turn to the mining shares.  We must remember, mining shares don't suffer from physical silver investment shortages.  Which means, huge movements of investors funds into the primary silver miners can push their values to extremely silly high share prices.