If Silver Breaks Through This Threshold This Week, WATCH OUT!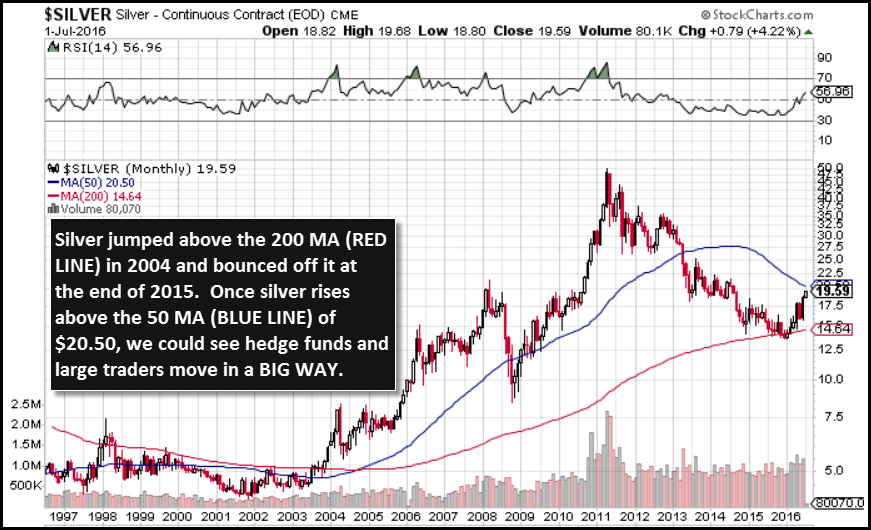 With silver screaming towards $20.70 this evening, SRSrocco explains exactly why a close above $20.50 spells REAL TROUBLE for the silver shorts. 
Watch Out If Silver Breaks This Threshold Line This Week…
 2 oz Silver Queen's Beasts 
Just $2.89 Over Spot, ANY QTY At SD Bullion!

 From SRSRocco:
The huge Silver Rally this week took a lot of precious metals investors by surprise.  The silver price surged 22% since the BREXIT vote results last Friday.  Silver began trading at $17.25 last Friday and closed at $19.76 Friday.  Gold also performed very well by increasing 7%.

As we can see from the Kitco table above, silver had its best day in several years by jumping $1.06 as of the close this Friday.
Watch Out If Silver Breaks This Threshold Line
What is interesting about this present silver rally is shown the the chart below: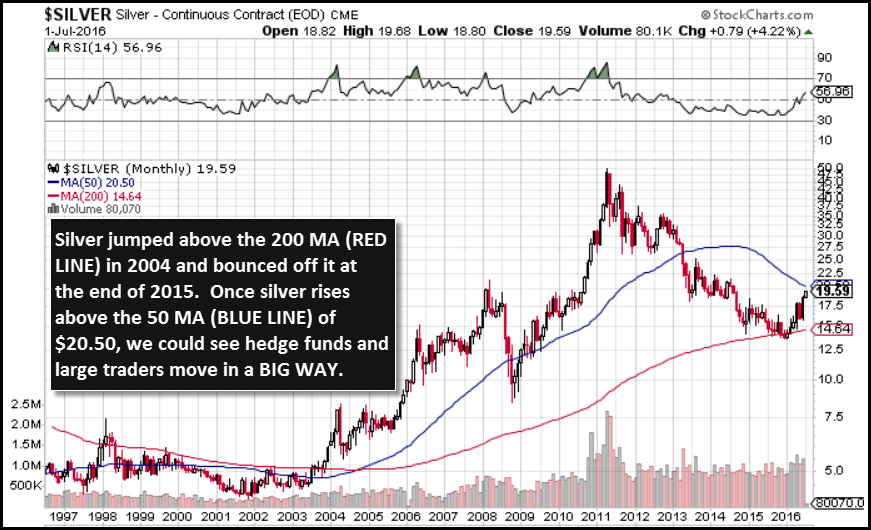 From 1996 to 2004, the price of silver traded below its 200 MA (RED LINE).  Once it jumped above it in 2004, it never fell below it except for the brief time it bounced off it at the end of 2015.  While I don't pay a lot of attention to Technical Analysis, a lot of traders do.
What is important to notice in the chart is the 50 MA (BLUE LINE).  Once the silver price fell below the 50 MA at the beginning of 2013, it continued to decline over the next three years.  However, as the price of gold and silver started to rise in the beginning of 2016 and surge even higher after the BREXIT vote last week, silver is only $0.75 away from breaking through the 50 MA (BLUE LINE).
Once silver breaks above this 50 MA Threshold, I believe we are going to see a great deal more hedge fund and traders move into the silver market.  We may see the banks try and hold silver from crossing this trend-line, but if silver does close above $20.50 next week and continue higher… this could spell real trouble for the bullion banks who hold a great deal of silver short contracts.
Precious metal investors who were hoping for lower gold and silver prices to purchase more metal were caught by surprise as the silver jumped 15% in a week.  Those who have NOT YET BOUGHT METAL, you may be paying a lot more if the price of silver really starts to take off over the next several weeks.  I heard that several precious metals dealers said, "They had never seen anything like the kind of sales they were experiencing today."
I will be putting out a very interesting article on the silver market next week that provides data showing how undervalued silver is compared to gold.
Buy 90% Silver Quarters and Dimes at SD Bullion
As Low As $1.99/oz Over Spot!

LIVE and Historical Market Data, Charts, and PM Prices: