New Vehicle Sales Plunged Further in August Amid Inventory Shortages & Production Cuts
Chip Shortage Wreaks Havoc – The average transaction price for new vehicles spikes to $41,000.

It has been one heck of a year so far for automakers, with sales surging early in March and April to very high levels, only to get smacked down brutally by the inventory shortages that resulted from the semiconductor shortages that were triggered by the record mind-blowing spike in sales of durable goods more broadly and in the US in particular. All year, automakers have been announcing what now seems like an endless series of temporary plant shutdowns ricocheting around the globe. Vehicle production, now prioritizing high-end and high-margin models, has plunged. Inventories are picked-over, and inventories of popular models are depleted.
Total car, truck, and SUV sales in August dropped for the fourth month in a row, to 1.28 million vehicles, according to the Bureau of Economic Analysis, down from 1.6 million in March when there were still enough new vehicles to sell.
The Seasonally Adjusted Annual Rate (SAAR) of sales, the standard industry measure which adjusts for the number of selling days per month and for seasonal factors, and then converts it to what sales would be for an entire year, plunged by 23.4% from August 2019, to 13.1 million SAAR, the lowest, beyond the lockdowns, since September 2011 when the industry was digging out from the Great Recession that threw GM and Chrysler into bankruptcy: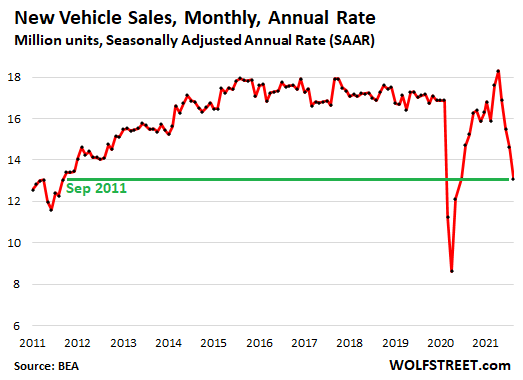 During the Great Recession, what caused the collapse in vehicle sales was a collapse in demand, as new vehicles were piling up by the millions at ports and on storage lots.
This time around, what caused the plunge in sales is the collapse in inventories because the industry is short on chips, and components that contain chips, which nearly all components do. Plants cannot assemble the vehicles when one or two parts have gotten hung up and are missing.
New vehicle inventories on dealer lots have been dropping from record low to record low over the months, and in August, according to the National Automobile Dealer Association (NADA), fell another 5% to a new record low of 1.06 million vehicles.
This amounts to a supply of about 25 days at the current rate of sales, when 60 days' supply is considered healthy.
In reality, with popular models, there is essentially no inventory, with all units being either pre-sold to customers before the units arrive, or being sold to customers as the units come off the vehicle carrier.
As automakers are prioritizing high-end vehicles, and as they're cutting incentives, the average transaction price (ATP) keeps surging. In August, the ATP reached $41,000 according to J.D. Power estimates, supported also by trade-in values that have spiked by 70% year-over-year, reflecting the mind-boggling price spike in used vehicle wholesale prices and higher-end trade-ins.
This chart shows the ATP for June and December each year, plus for August (green) 2021:
Read the full article and see the charts here: WOLF STREET.