Fear Campaign Against Americans Continues With Nuclear Drills in New York
The Cold War is Back.
Submitted by Jeff Berwick:
In many ways, you have to feel bad for Americans. They have been on the receiving end of constant fear propaganda for decades.
Just look back to the 50's with the "Duck & Cover" fear campaign as one example.
Getting malleable young minds to cower under their desks in their government indoctrination camps, as though that would somehow protect them from a nuclear blast, shows that it has nothing to do with safety and everything to do with fear.
The US government even convinced their tax slaves that there was a major war going on all the way from the 1950s to the 1980s even though not a single shot was fired. They called it the "Cold War" and warned petrified citizens that at any moment, if not for the brave US government, they could be blown to oblivion.
After the USSR had fallen apart, as all communist countries do, the US government needed a new bogeyman to scare the people in the home of the brave into demanding their own slavery in the land of the free.
Dick Cheney, Paul Wolfowitz, Donald Rumsfeld and others formed the Project For A New American Century (PNAC) and planned a "new Pearl Harbor", which turned out to be 9/11, to enter the US into the War of Terror with a completely made up entity as the enemy.
Who is the enemy? It's an emotion; terror. Yes, people bought it.
And they have continued with that since 9/11 and have really increased it under the Trump presidency.
Google searches for the term "World War III" were quite small until just after the election… and they spiked higher in the last few weeks since Trump has been actively bombing or saber-rattling across the world.

And now, just to make sure everyone in the Home of the Brave is petrified, the US government is running a 2017 version of Duck N' Cover drills.
It's called Operation Gotham Shield and is set to simulate a 10,000-ton nuke blast over New York and New Jersey on April 25th and 26th.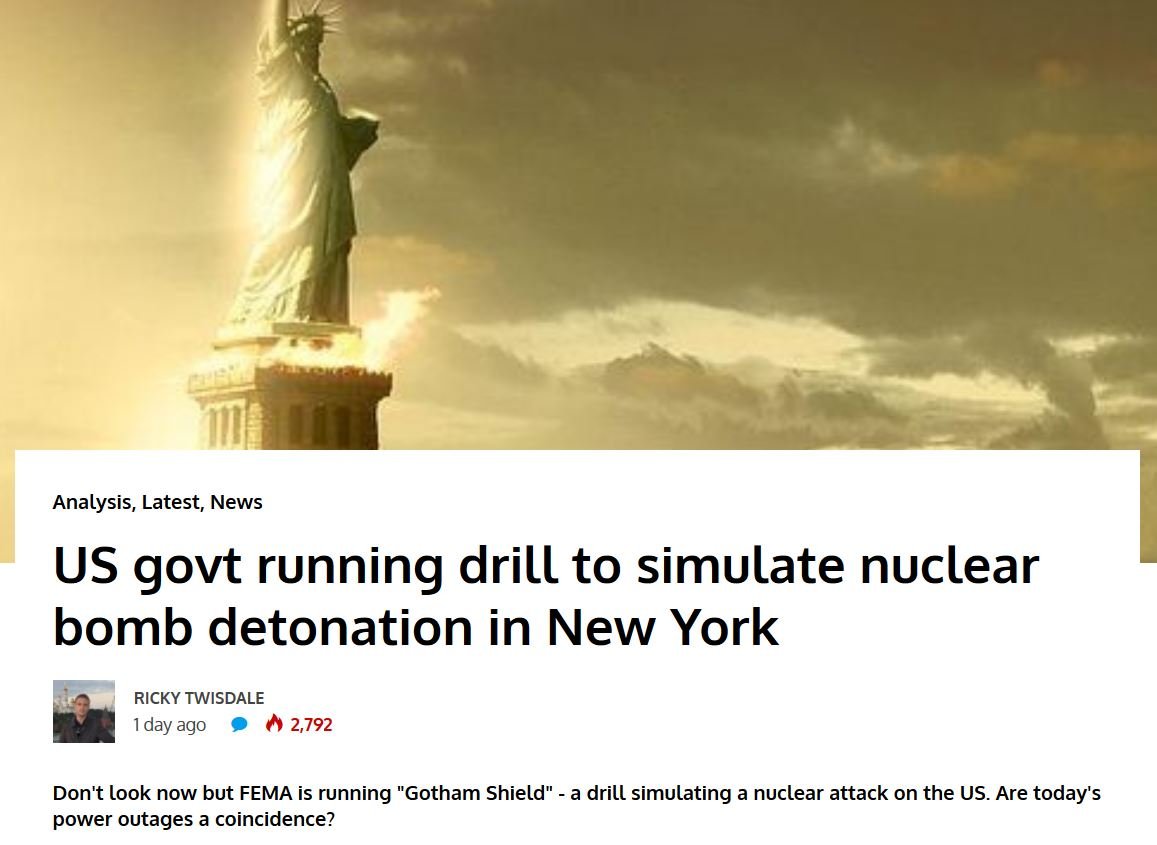 This, of course, comes after weeks of fear propaganda that cartoonish Kim Jong-Un, or "Lil' Kim" as we call him, is making plans, reary reary good prans, to bomb the US.
I visited UC Berkeley last week to go to an anti-free speech rally and got pepper sprayed and tear gassed by communists. But, afterward I also gave my view on what is going on in North Korea to Luke Rudkwoski of We Are Change, which you can see here:
The main point being is that this is almost all designed by the government and the media to keep people in a state of constant fear. In that state, they are highly, highly open to suggestion… just like in hypnosis.
And, in that state, they have no time to think about just how enslaved they are by the government. In fact, because the government says they will protect them, they actually love their enslaver. It's called Stockholm Syndrome. It's a sickness, and almost everyone's got it.
However, there is a chance that this isn't just a drill. After all, during 9/11, the US military conducted a training exercise in the five days preceding the September 11 attacks that included simulated aircraft hijackings by terrorists, according to a 9/11 Commission document.
And so, this drill is one of two things. It is either fear propaganda committed by the US government to keep the populace in fear and further enslaved, or it is an actual planned event to be carried out by the US government on its own people again.
It's one or the other. And, chances are it is almost surely a drill as they have been leaking this information very heavily to the media which they wouldn't do if it were another planned 9/11 attack. 
If it is fear propaganda, definitely have no fear as that is exactly what they want. By getting hundreds of millions of people in fear all at once, they can actually create a massive amount of negative energy by which they can further enslave people. So, never, ever feel fear from any of these propaganda attacks.
And, on the off chance that this is a drill that is meant to go live and you live in the New York City area, do not feel any fear. Fear is a killer, and it is no way to live.
If you do live in that area and you do feel fear, it is likely because you have not gotten right with yourself/family/universe/God and are fearful of dying before you otherwise would naturally. If so, what you need to do is to correct those things right now… not live in fear.
Or, if you are in fear because you never did some of the things you wanted to do and don't want to die before you do… begin doing those things today.
But never, ever live in fear. That is how they can control us. If the US were truly the Home of the Brave, and few lived in fear, the government could not do what it has done for decades. There would be no wars because people would not feel fearful of being attacked and would not stand for the US military attacking other countries to "defend" them.
In fact, if the US were the Home of the Brave it would actually become the Land of the Free… because no fearless man or woman would ever stand for a government extorting (taxing) them in order to "protect" them.
Of interest, much of what is occurring this week is actually because the period of 19th April – 1st May is a critical 13-day period within the belief system of the globalists. It is a 13-day Satanic ritual day relating to fire — the fire god, Baal, or Molech/Nimrod, also known as the Roman god, Saturn (Satan).
Project Gotham Shield, in fact, is fully scheduled to run from April 18th until May 5th which encompasses the entire 13-day Satanic festival.
In The Dollar Vigilante newsletter this week I went over a lot of what I expect during this time as well as with the French (s)election and how to best protect yourself and profit from all this chaos brought to you by the globalists.
The bad news is the world is controlled by sociopathic Satanists. The good news is that you can survive and profit through it… and if enough people do that we can rid ourselves of these parasites.
Just remember, the key is, no fear.