Dow Companies Report Worst Revenues Since 2010…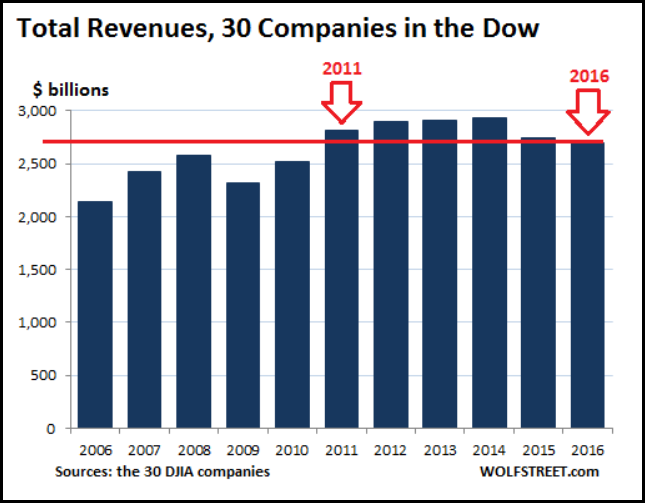 …Dow Rises to 20,000 (LOL?)
By Wolf Richter, Wolf Street:
Wall Street hocus-pocus has done an awesome job.
The Dow-20,000 hats have come out of the drawer after an agonizingly long wait that had commenced in early December with the Dow Jones Industrial Average tantalizingly close to the sacred number before the selling started all over again.
What a ride it has been. From the beginning of 2011 through January 27, 2017, so a little more than six years, the DJIA has soared 73%, from 11,577 to 20,094. Glorious!!
But when it comes to revenues of the 30 Dow component companies – a reality that is harder to doctor than ex-bad-items adjusted earnings-per-share hyped by Wall Street – the picture turns morose.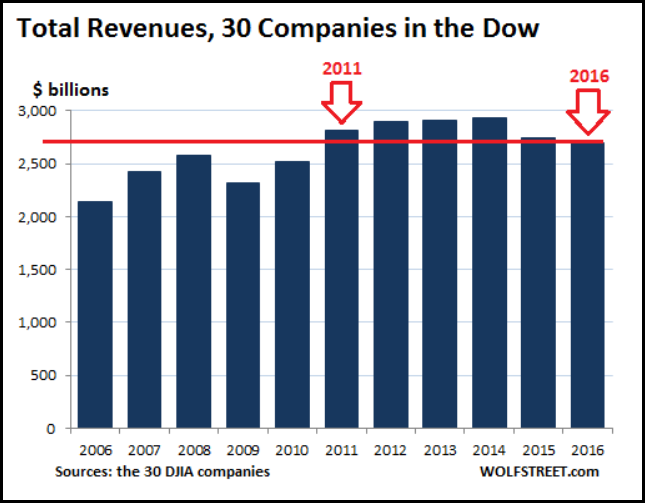 The 30 Dow component companies represent the leaders of their industries. They're among the largest, most valuable, most iconic American companies. And they're periodically booted out to accommodate a changed world. For example, in March 2015, AT&T was booted out of the Dow, and Apple was inducted into it, as its ubiquitous iPhone had become the modern face of telecommunications. New blood with booming revenues replaces the stodgy old companies. In aggregate, revenues should therefore rise, right?
READ MORE HERE: Dow Companies Report Worst Revenues since 2010, Dow Rises to 20,000 (LOL?) 
Buy 2017 American Silver Eagle Coins at the Best Price Online!
Just $2.29 Over Spot, ANY QTY!