Trump To Ignite Wholesale Silver Shortage? "Imposing A 20% Tax On ALL Imports From Mexico"
Two weeks ago we asked a question on Metals & Markets that the market has not (yet):  Could Trump's Border Tax Ignite CHAOS in the US Silver Market?

Moments ago WH Press Secretary Sean Spicer confirmed this risk while discussing Trump's plans to make Mexico pay for his wall: "by imposing a 20 percent tax on ALL IMPORTS from Mexico…"
After a chaotic Twitter back and forth between President Trump and Mexican President Pena Nieto resulted in the cancellation of the upcoming meeting to renegotiate NAFTA, Trump vowed Mexico will pay for his wall one way or another.  
Speaking to reporters aboard Air Force One Thursday, Press Secretary Sean Spicer revealed Trump plans to force Mexico to pay for his wall via a border tax on ALL IMPORTS:
"When you look at the plan that's taking shape now, using comprehensive tax reform as a means to tax imports from countries that we have a trade deficit from, like Mexico. If you tax that $50 billion at 20 percent of imports — which is by the way a practice that 160 other countries do — right now our country's policy is to tax exports and let imports flow freely in, which is ridiculous.

By doing it that we can do $10 billion a year and easily pay for the wall just through that mechanism alone. That's really going to provide the funding."
The risk to the US Silver market (which is HEAVILY supplied by Mexican mining operations) is that the Trump Administration doesn't single out manufacturing like GM, Chrysler and Ford for import taxes, but rather taxes ALL IMPORTS, which according to Sean Spicer, sounds like will be the plan:
"by imposing a 20 percent tax on all imports from Mexico."
Just how much might the US silver market be affected if imports are suddenly taxed by 20%?
We suspect more than most would be willing to admit.
According to expert silver analyst Steve St. Angelo, the US imported a whopping 3,440 metric tonnes of silver in 2015 – the majority from Mexico.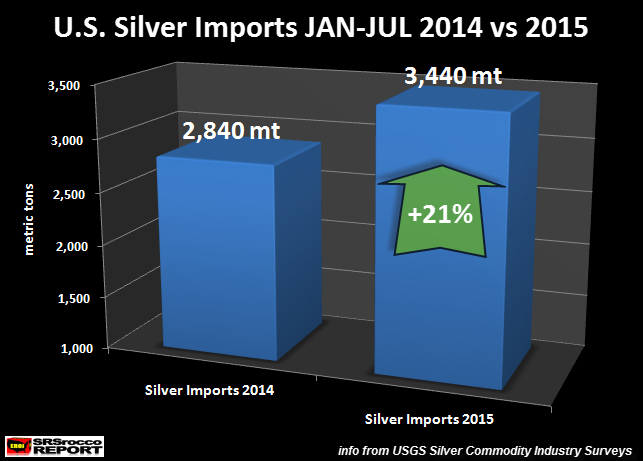 US Silver imports increased further to record levels in 2016, with 1,547 metric tonnes of the metal imported from June-August 2016 alone.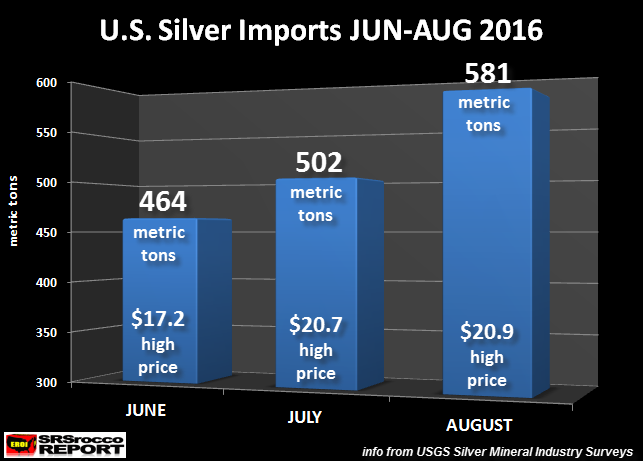 Meanwhile, US silver production was down a stunning 14% YOY in 2016. 
If President Trump goes through with his plan to tax ALL IMPORTS…including ore and 1000 oz silver bars – the disruption to the precious metals markets in the US will be significant.
US silver prices could jump above global prices and create a bifurcated market.
Wholesale silver shortages would likely result, as refineries and mints scrambled for alternative non-Mexican sources of silver.  
The problem is that while Mexico led the world in silver production in 2015 with 189.5 million oz of production according to the Silver Institute, a MASSIVE 21% of total global silver production!
US silver output was only 35 million oz in 2015 – not even enough to meet demand for US Mint Silver Eagle bullion coins!  (US Mint demand was over 48 million oz of silver in 2015 for bullion Silver Eagles and bullion ATB coins alone). 
China's 109 million oz of annual production and Russia's 50 million are certainly not headed to the US of A.

It quickly becomes clear that IF Trump enacts a plan to tax ALL Mexican imports at 20%, US silver prices could be revalued 20% higher overnight, and the ensuing chaos could cause massive shortages of physical silver – and this time in the wholesale market as well as the retail market.