The Insanity Of U.S. Energy Independence & Cracks Beginning To Appear In The Natural Gas Industry
The notion of future U.S. Energy Independence will seriously disappoint the market and American public.
This strategy of energy independence put forth by the energy industry and U.S. Govt may buy some time for our anemic economy and the U.S. Dollar, but will back-fire in a big way when overall oil and gas production declines much sooner than expected.
Silver Buffalo Rounds As Low As 76 Cents Over Spot!
From the SRSRocco Report:
If we take a look at the chart below, recently released by the U.S. Energy Information Agency (EIA), the United States still imports a net 7.5 million barrels a day (mbd) of crude oil.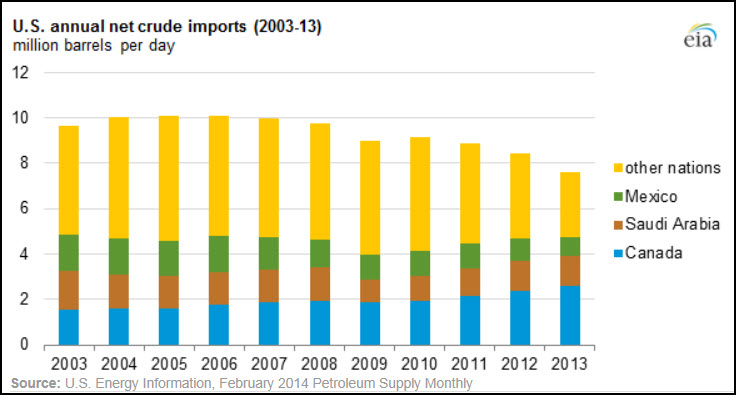 Now, if we go by a total NET BASIS, the U.S. imported 6.2 mbd of petroleum products in 2013.  Still, this is a long way away from energy independence.
The United States never produced more than 10 mbd of crude oil when it peaked back in 1971.  So, not only does the U.S. oil industry need to surpass the 10 mbd peak, it would have to reach nearly 14 mbd.
Oil production from shale oil fields such as the Bakken and Eagle Ford pushed total U.S. crude oil supply up to 8 mbd presently.  While production from these two fields are forecasted to increase, it may only be for a few more years.
According to energy analysts David Hughes and Art Berman… the Bakken and Eagle Ford have a limited number of drilling locations available, and the wells in these fields suffer extremely high decline rates.  The shale energy companies exploited the SWEET SPOTS first, so the remaining locations will be less productive.
If we consider these factors, shale oil production in the U.S. will more than likely peak 2015-2016.  It will be extremely difficult for the domestic oil industry to surpass the 10 mbd peak set in 1971… and impossible to ever reach the 14 mbd to become energy independent.
The sooner we wake up to this realty, the better we can prepare for a much more LOCAL and SUSTAINABLE living arrangement.
Cracks Beginning To Appear In the U.S. Natural Gas Industry
2014 may turn out to be a pivotal year for the U.S. natural gas industry.  After the record cold winter, U.S. underground natural gas storage levels are 51% lower than last year and 54% lower than the five-year average.
I spoke with energy analyst Bill Powers back in the beginning of the year and made this chart estimating where U.S. underground gas storage level would reach by the end of the withdrawal season: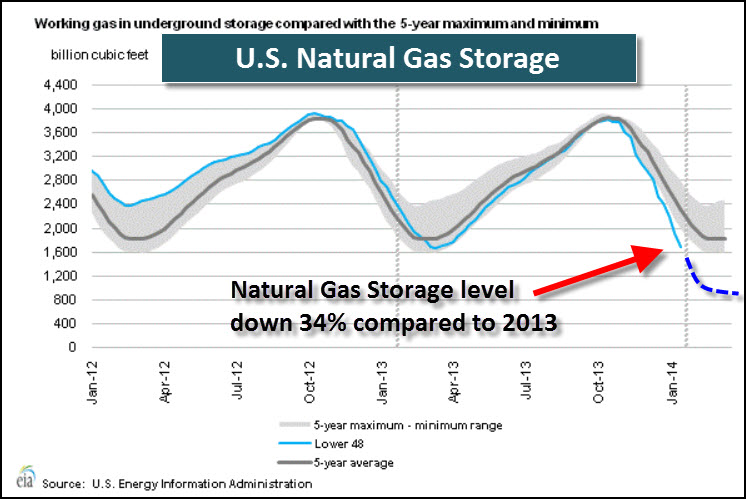 I estimated underground gas levels would fall to 800 Bcf by the end of March.  The EIA came out with their forecast of a low of 965 Bcf (beginning of March).  Here is the chart from their most recent report released yesterday: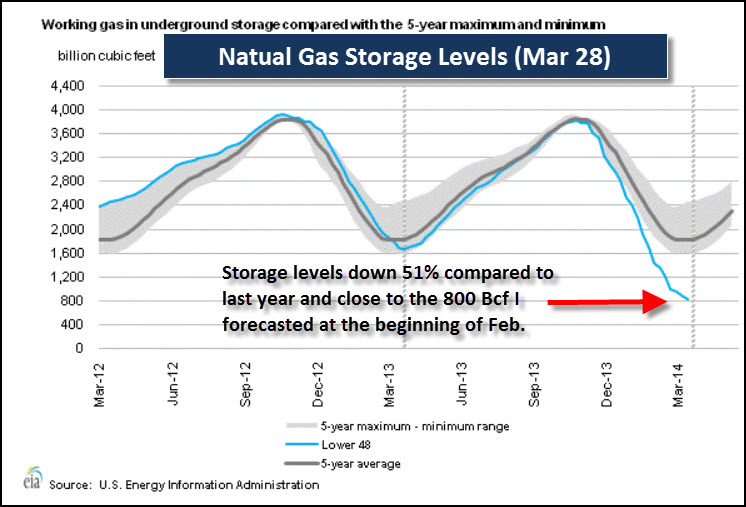 Here is the table detailing the declines: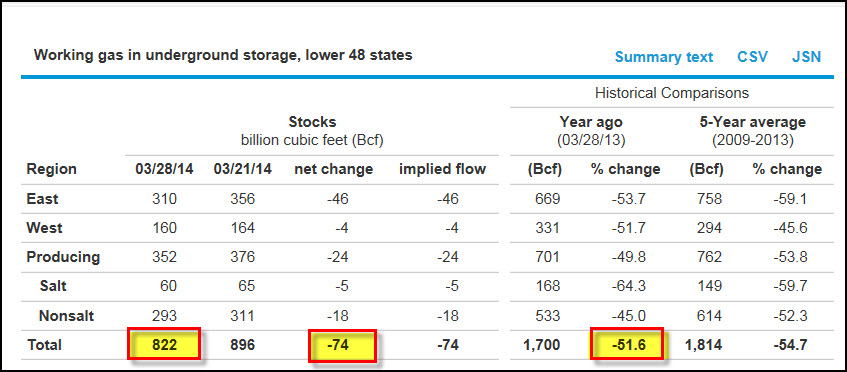 Even though this was an extremely cold winter,  the industry will have to try and make up this shortfall.  Furthermore, U.S. natural gas production grew at its slowest annual rate in 2013 (0.8%) since 2005: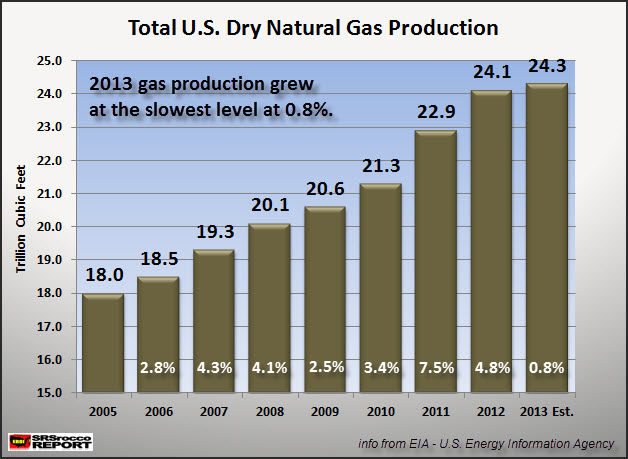 If you think the decline rates in shale oil fields are high… they are even higher in shale gas fields.  And the higher the industry pushes overall gas production, the higher the losses due to a 24% annual decline rate (Citi Research- 2013).
Simple cocktail napkin calculations means the U.S. natural gas industry will have to replace nearly 100% of gas production in the next four years.  Think that is possible?  I don't.
Folks, I believe the U.S. natural gas industry is headed for serious trouble.  If we continue to see record heat and droughts during this summer as we experienced last year, the build of underground gas storage levels may be critically low going into the next winter season.
Get ready for much higher natural gas prices.
1 oz Gold OPM Bars As Low As $14.99 Over Spot at SDBullion!