The Big Squeeze Continues in the Top Gold Miners
The results are finally out and 2012 proved to be another record year for the continued squeeze in the top 5 gold miners.  Not only did gold production decline 1.3 million ounces from the top 5 year-over-year, their average yield dropped another 6%.  As gold yields continue to decline, it causes more stress for the mining companies.  Thus, it takes more energy to produce the same or less gold.
This is indeed the major problem facing the gold mining industry going forward.  Below we can see just how much average gold yields have declined in the top 5 gold miners (Barrick, Newmont, AngloGold, Goldfields & GoldCorp):
From the SRSroccoReport:
In 2005, the top 5 miners were producing gold at an average yield of 1.68 grams per tonne (g/t), but by 2012, it had fallen to only 1.22 g/t.  In just seven years the average yield declined 27% or nearly 4% per year.  However, from 2011 to 2012 the average yield fell an additional 6%
The real problem with declining ore grades & yields is how much gold production is lost every year.  If we take the top miners gold production in 2005 which stood at 25.2 million oz and figure a decline an average yield decline of 27%, we come up with a loss of 6.8 million oz in that seven-year time period.  Which means the miners either have to mine and process more ore, or they have to add new mining projects to offset this fall in average yield.
This next chart shows the change in total processed ore & average yield since 2005:
In 2005, the top 5 miners processed 522 metric tonnes (m/t) of ore to produce 25.2 million oz of gold, but by 2012 they had to mill and process an additional 55 m/t  or a total of 577 m/t, while their overall production declined to 22.6 million oz — a difference of 2.6 million oz.
According to GFMS 2013 Gold Survey, the largest increase in cash cost for the gold miners from 2011 to 2012 was due to the decline in gold grades.  Here we can see that declining ore grades added another $41 an ounce to the total cash cost in 2012: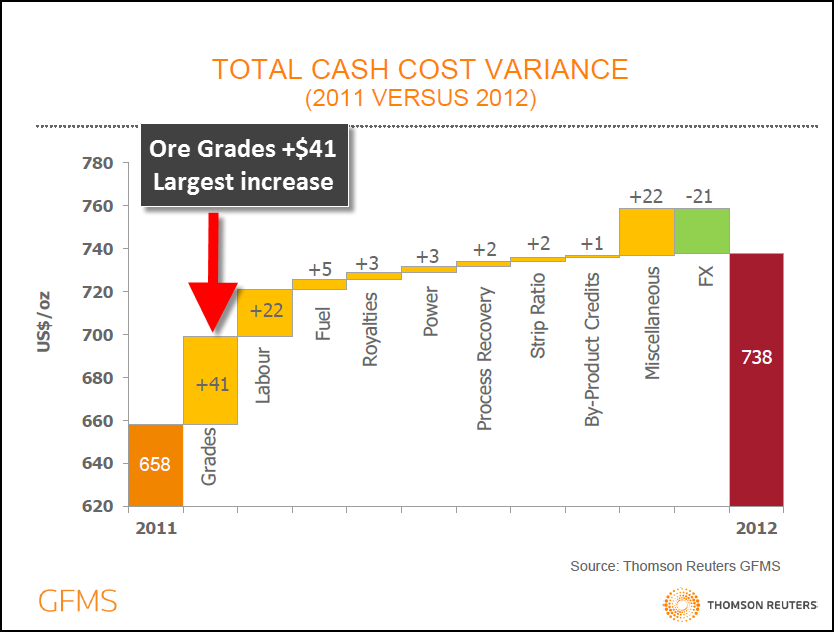 Even though I don't believe cash costs are a good metric to determine the overall profitability of a mining company, this is a perfect example to show just how much declining ore grades can impact the miners balance sheet.
As, I mentioned in the beginning of the article, as ore grades decline it takes more energy to produce the same or less gold.  This next chart takes the last three and puts it all into perspective.  In just 6 years, diesel consumption per ounce of gold production has increased a staggering 72% in these top five gold companies.
What's even more amazing is that diesel consumption has increased on average 12% per year while overall gold production has fallen.  In 2005, we can see the gold miners only burned 12.7 gallons of diesel on average to produce one ounce of gold.  However, by 2011, this increased to 21.8 gallons for every oz of gold produced.
I would like to state that when these companies report their diesel-fuel consumption for the year, it covers all aspects of their operations.  Some of the diesel is used for building out new mines while a few companies such as Barrick and Newmont have copper producing mines.
Regardless, diesel consumption is increasing in all of the gold miners — even those who haven't been sidetracked into the base metal mining of copper.  A good example of this is Goldfields who has the highest average gold yield of the group.
The data from this chart shows that Goldfields has more than doubled their diesel-fuel consumption for each ounce of gold produced since 2005.  As I stated, Goldfields has the highest average ore yields of the group.  In 2005, Goldfields produced 4.2 million oz of gold at an average yield of 2.74 g/t while consuming 4.9 gallons of diesel per gold oz.    But by 2011, the difference was quite notable.
Goldfields average yield declined 80% since 2005 to 1.83 g/t (2011), increasing their diesel consumption to 10.6 gallons per oz on falling gold production of 3.2 million oz.  What a change of events.  Goldfields had to more than double their fuel consumption to produce 24% less gold in the six-year time period.
We must remember, there is another factor that also increases diesel consumption at these mining companies other than falling average yields.  As open-pit mines age, the haul trucks have to move longer distances as the mine deepens to remove the same amount of ore.
Few realize that during the late 1800′s the average ore grades of the world's gold mines were 20-25 g/t on average — nearly 2o times larger than the present rate.  Today the gold miners are left to basically mining gold dust.
Thus, falling average yields are the BIG SQUEEZE taking place on the gold miners balance sheets.  That being said, this may not be the most critical problem facing the gold miners in the future.  Even though costs will continue to increase as average yields decline, the much larger issue may be the availability of diesel-fuel supplies in the future.
The world seems to be clueless of what is really taking place in the world's oil industry.  For those who do not believe in Peak Oil, there are actually two additional factors that are already causing stress in mining industry and world's economies:
1) the Decline of Net Oil Exports
2) the Falling EROI – Energy Returned on Invested
Even though the world has not yet peaked in total liquid energy production, net oil exports most certainly have.
1 oz Silver Buffalo Round As Low As $1.49 Over Spot At SDBullion!!
The SRSrocco Report will focus on how energy will impact the overall economy with a focus on the precious metals and mining industry. Gold and silver have been used as currency and excellent stores of wealth over past several thousand years… and will continue to be used as such.
The SRSrocco Report will provide detailed, objective analysis via monthly reports that will show investors the assets that are fundamentally better stores of wealth, as well those assets and sectors to stay away from in the future.
What does a subscriber get?
With the SRSrocco Report, you'll get monthly access to privileged information revealing such vital information as:
Which assets provide a fundamentally better store of wealth and which sectors you should definitely steer clear of.
Which precious metals have provided secure stores of wealth since before Noah's Ark…and will continue to do so when all else fails.
How net energy loss will impact the overall economy and why you should transition to a more local and less complex lifestyle.