SRSrocco: 500 Silver Eagles To Purchase A Home in the Future
In a new video, Mike Maloney explains how a person will be able to purchase a home for 500 ounces of silver or less in the future.
I actually think silver will buy even more. 

From The SRSRocco Report:
Mike believes this will occur due to home valuations falling considerably as they re-balance from the huge bubble during the past decade.
In the video, Mike shows that even though the price of silver has fallen considerably from its high in May 2011 of nearly $50, it was only a correction building a base for a much higher move in the future.
Furthermore, Mike explores the Gold-Dow Ratio will head back towards the 1:1 ratio and even surpass it by only a half of an ounce of gold buying the Dow.   As you can see from the Screenshot below, Mike points out how the volatility is getting more severe in the cycles which is setting up for a much more extreme move going forward: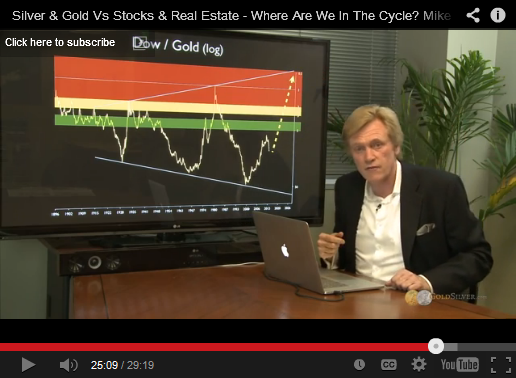 I highly recommend the video as Mike Maloney refocuses the precious metal investor to look at the longer term.  Many gold and silver investors today have become a bit disenfranchised due to the much lower prices.
Also, Mike answers some of the members questions which are very interesting.
My Views on Gold & Silver Valuations Are Even More Bullish Than Mike's
The only place where I may differ from Mike, is on the DEGREE OF VALUATION.  I believe gold and silver will become two of the best physical assets to own due to the global energy constraints in the future.
You see, in the past every time we had a cycle where gold and silver became more valuable to the Dow Jones or home values, we always had a growing energy supply in the future to power higher economic growth.  Indeed, this time will be different.
A great deal of real estate values will decline over-and-above their re-balancing from the decade-long bubble in this market because economic growth will fall as energy supplies decrease.  Thus, over building in all real estate sectors, Commercial, Industry & Residential will suffer from falling demand.
We will not see a return to the GOOD TIMES.  This was a one way street that is now topping.  Owning precious metals will be one of the only ways to protect wealth as most other assets will decline in value.
This is why I believe individuals will be able to purchase homes in IDEAL locations such as in smaller towns and farming areas for maybe 200-300 ounces of silver.  It takes about 10,000 ounces of silver to purchase the median priced home today.  We must remember, the collapse of the U.S. Dollar will throw the United States into a third world economy destroying most paper assets.
Thus, very few people will be holding onto physical assets that protect wealth.  That is why I believe gold and silver will become EXCELLENT INVESTMENTS rather than just the typical stores of value.
The coming ENERGY WALL is going to destroy the way we have been doing business for centuries.  Stock price valuations will evaporate.  Those who were smart enough to exchange worthless paper assets for superior physical ones will those calling the shots in the future.
Mark my words….
I will be providing more analysis and data on how energy will impact the precious metals, mining and overall economy at the SRSrocco Report.
Silver Bullet Silver Shield Collection at SDBullion!