Russia Purchased the Majority of Gold Miner's Production
It's been rumored that the Russians have been purchasing the majority of their domestic gold production.  Well, according to this Mining Company's 2012 Annual Report, the Russian Federation was the majority buyer of its domestic gold and silver production.
Silver Buffalo Rounds As Low As
$.99 Over Spot At SDBullion!
From The SRSRoccoReport:
In 2012, Russian based Polymetal International, produced 589,000 ounces of gold and 26.5 million ounces of silver.   If we look at the table below, we can see that precious metal purchases within the Russian Federation accounted for 57% of total sales:

In addition, Kazakhstan purchased 21%, Europe 12%, and China 10% of Polymetal's gold and silver production.  Furthermore, 88% of Polymetal's sales went to Russia, China and Kazakhstan.
In a recent news article, Kazakhstan has been purchasing half of its own domestic gold production:
Central Asian republic of Azerbaijan has continued to accumulate gold reserves by purchasing gold from domestic enterprises.

In line with a presidential decree, last year country's central bank, the National Bank was given a priority right to purchase fine gold in bars inside the country.

The bank has purchased 32 tons of Kazakhstan's refined gold from domestic enterprises within the last 2 years in purpose of formation of gold and forex reserves of the country.
Actually, part of Polymetal's gold production comes from the Varvara mine located in Kazakhstan.
The largest gold mining company in Russia is Polyus Gold which produced 1.7 million ounces of gold in 2012.  Unfortunately, Polyus does not provide a list of the countries that purchases its gold in its Annual Reports.  If I can find this data, I will update the post.
Now, if we look at U.S. based Newmont, we see a much different picture: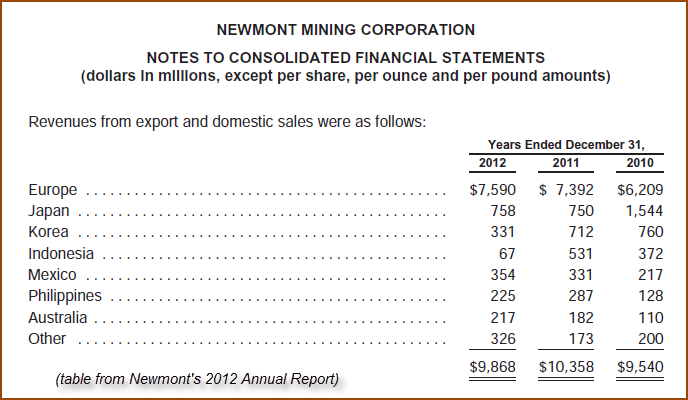 The majority of gold that Newmont sold in 2012 went to Europe, followed by Japan, Mexico and Korea.  As you can see, the United States isn't even listed on the table.  This is quite amazing when a more than a third of Newmont's gold production comes from the United States.
Even though Polyus did not list the countries that purchased its gold in its Annual Reports, I would imagine Russia was more than likely one of the larger buyers.