JP MORGAN's CUSTOMER GOLD INVENTORY FALLS 61% OVERNIGHT!
JP Morgan's Eligible (Customer) gold inventory fell a whopping 61% today.  That's 6.7 metric tonnes of gold taken off of JP Morgan's inventory.  As you can see in the chart below, there are only 136,380 oz of gold left in Morgan's Customer inventory.   Basically, JP Morgan has a little more than 4 metric tonnes of gold left in its Eligible or Customer inventory.
Furthermore, that 217,844 oz withdraw from JP Morgan's vault accounted for 28% of its total inventory….meaning JP Morgan only has approximately 555,000 oz left in its total inventory.
Silver Buffalo Rounds As Low As
$.99 Over Spot At SDBullion!

It will be interesting going forward here to see if JP Morgan will be able to satisfy its withdrawal requests of gold.  The more the bullion banks push the price of gold down, the more gold will be withdrawn from the Comex.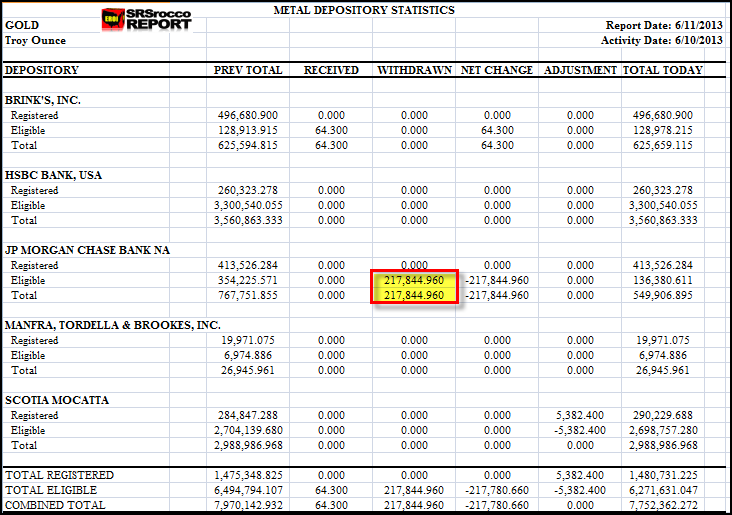 The SRSrocco Report will focus on how energy will impact the overall economy with a focus on the precious metals and mining industry. Gold and silver have been used as currency and excellent stores of wealth over past several thousand years… and will continue to be used as such.
The SRSrocco Report will provide detailed, objective analysis via monthly reports that will show investors the assets that are fundamentally better stores of wealth, as well those assets and sectors to stay away from in the future.
What does a subscriber get?
With the SRSrocco Report, you'll get monthly access to privileged information revealing such vital information as:
Which assets provide a fundamentally better store of wealth and which sectors you should definitely steer clear of.
Which precious metals have provided secure stores of wealth since before Noah's Ark…and will continue to do so when all else fails.
How net energy loss will impact the overall economy and why you should transition to a more local and less complex lifestyle.
2013 Silver Eagles As Low As $2.99 Over Spot!
2013 San Francisco Mint ASE's As Low As $3.29 Over Spot!