Huge By-Product Silver Mine Loses Money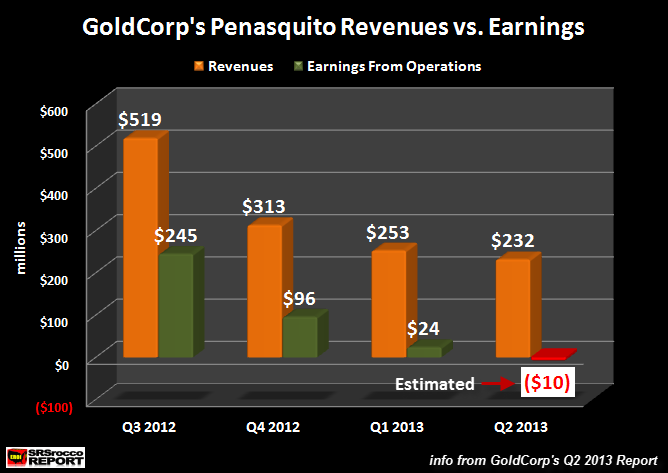 One of the largest by-product silver mines in the world recorded a loss during the second quarter of 2013.  This primary gold mine located in Mexico, produced nearly 24 million ounces of by-product silver in 2012.  If we compare this mine to the top primary silver mines in the world, it ranks as the third largest.
If the price of gold or silver fell to the levels that some of the more bearish analysts have forecast, it would mean the ENTIRE WORLD'S GOLD & SILVER PRIMARY MINING INDUSTRY would be losing serious money.

From the SRSRocco Report:
Looking at the table below, we can see that GoldCorp's Penasquito mine which produced 23.7 million oz of silver in 2012 would rank right below Fresnillo, the second largest primary silver mine in the world.
Penasquito is a huge open-pit gold mine that has a great deal of by-product silver, zinc and lead.  Even though Penasquito is a gold mine first and foremost, it still produces more silver than most of the primary silver mines in the list above.
Penasquito was GoldCorp's darling in the third quarter of 2012, when it alone accounted for $245 million (35%) of its total $704 million in operated earnings.  However, just three quarters later, financial results at the mine totally reversed.
Penasquito's Revenues & Earnings Fall Off a Cliff
Here we can see in Q3 2012, Penasquito stated $519 million in revenue while posting $245 million in earnings from its operations.  Penasquito received a realized price of $1,758 for its gold and $26.34 for its silver.  We must remember this silver price includes a 25% sale of silver to Silver Wheaton at $3.99 during the quarter.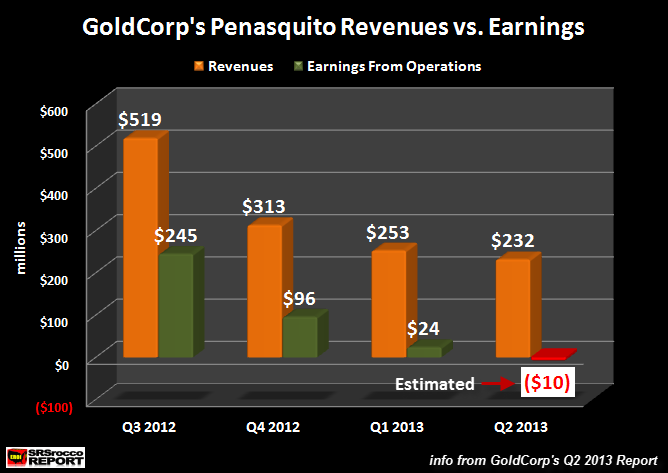 As the price of gold and silver were taken down in the first and second quarter of 2013, revenues and earnings plummeted at Penasquito.  In just three-quarters, revenues declined from $519 million (Q3 2012) to $232 million (Q2 2013) or a staggering 55% while its earnings fell negative.
GoldCorp stated a huge impairment write-down which the majority came from its Penasquito mine.  According to its second quarter report, Penasquito actually stated a loss of $2.4 billion, but this included the impairment charge.  I estimated the adjusted loss in Q2 2013 to be approximately $10 million if were to exclude the impairment write-off.  The actual adjusted loss could be more or less than $10 million.
Although, I actually believe the loss could be even greater due to the fact that the mine processed 12% more ore than the quarter before and its costs for mining and milling per tonne increased 7% and 15% respectively.  Regardless, we can see just how much difference the financial performance of a mine can be when the metal prices fall substantially.
For a frame of reference, Penasquito received a realized price of $1,256 for gold and a paltry $15.50 for silver in Q2 2013.  This turns out to be $500+ less for gold and $10+ less for silver than what was received during Q3 2012.
Amazing what Fed & Central Bank policies can do to impact the real WEALTH PRODUCERS OF THE WORLD.
Lower Silver Prices Greatly Impacted Penasquito's Bottom Line
If we look at the last table below we can see just how much lower silver prices impacted the mine's revenue: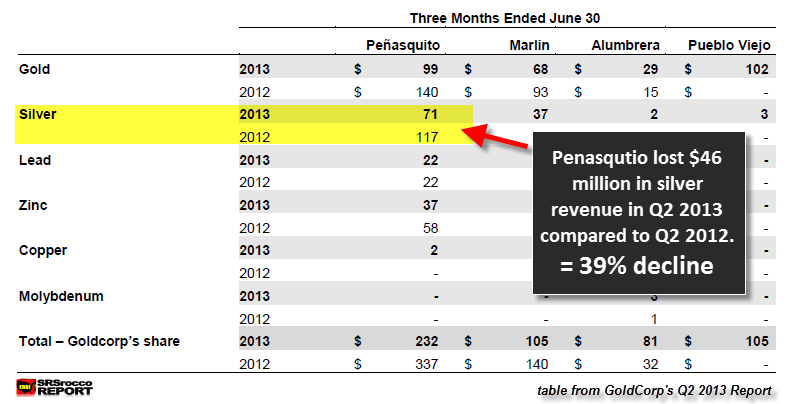 In just one year, silver revenues at Penasquito fell an amazing $46 million (-39%), from $117 million Q2 2012 to $71 million in Q2 2013.  Amazingly, gold revenue declined less (-$41 million), from $140 million Q2 2012 to $99 million Q2 2013, it was only a 29% decline compared to silver's 39% drop.
This just goes to show that the cost to produce by-product silver in this gold mine during the last quarter was at break-even.  While the prices of gold and silver have recovered from their lows and are now presently above what Penasquito received during the second quarter… we can see that anything below $1,250 for gold and $20 for silver (adjusted to include SLW 25% silver-stream agreement), would more than likely show an earnings loss for the mine.
As I have mentioned in many of my articles on the gold and silver miners, I am not singling out GoldCorp and its Penasquito mine in a negative fashion.  GoldCorp is a fine company and Penasquito can and will make substantial profits when the prices of the precious metals recover.
That being said, analysts such as Harvey Dent who forecast the price of gold to hit $850 would be $400 below the break-even cost for Penasquito and probably $200-$300 below what most gold companies need to make a profit.
This is exactly why I wrote this article.  Analysts today have gone completely insane.
If the price of gold or silver fell to the levels that some of the more bearish analysts have forecasted, it would mean the ENTIRE WORLD'S GOLD & SILVER PRIMARY MINING INDUSTRY would be losing serious money. 
On the other hand, as the worlds fiat monetary system continues to disintegrate, at some point in time the public will be forced to move into precious metals to protect their wealth. When this occurs, companies such as GoldCorp will not only be recording huge profits, they will be some of the most highly valued equities in the world.