David Morgan: $100 Silver May Be Conservative!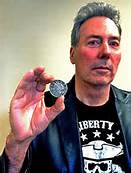 David Morgan from Silver-Investor.com says, "The rush into gold is basically nation states, but the rush into silver is basically 'the people,' and it's not just 'the people' of the U.S., it is 'the people' of the world. There will be a rush into gold and then silver like you have never seen before. This will be a global phenomenon. It wasn't in 1979, this time it will be. You will either have it or you don't."
What are Morgan's price targets? Morgan says, "I am on the record that silver will hit $100 an ounce, and that may be conservative." 
 Silver Buffalo Rounds As Low As 77 Cents Over Spot at SDBullion!

From Greg Hunter, USAWatchdog: