Copper & Gold: Poor Q3 Results as Ore Grades and Gold Production Declines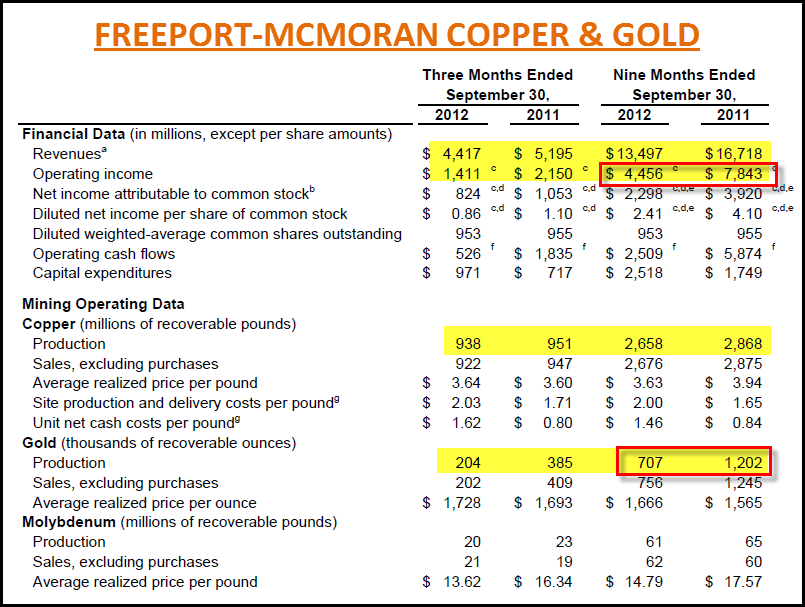 Submitted by SD Contributor SRSrocco:
If we take a look at Freeport-McMoRan's Q3 Report, we see that the base miners balance sheets continue to erode as costs increase while ore grades and the market price for commodities continue to decline.
–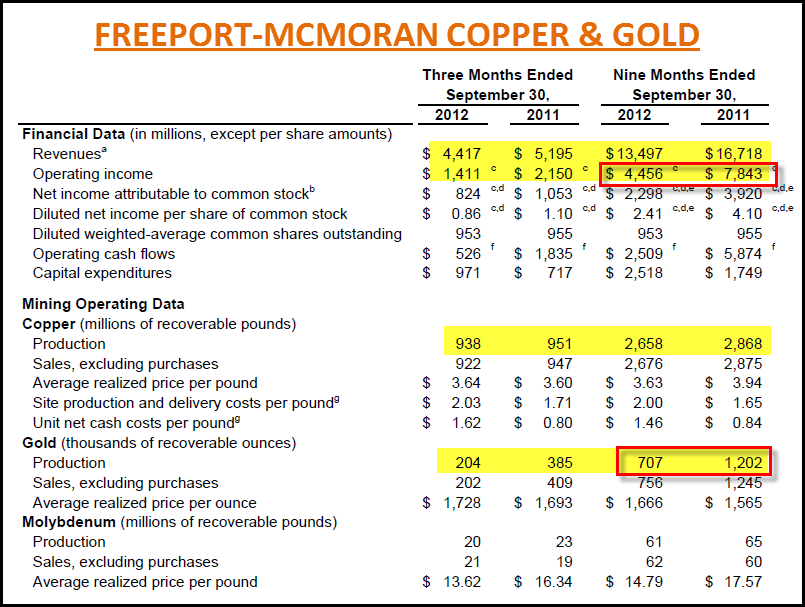 In the first nine months of 2012, total revenues have declined nearly 20% compared to the same period in 2011.  We can also see that production of copper has fallen 7.3% in the first nine months while gold as declined a staggering 41%.  We can also see that operating & net income both fell quite hard.
Cash Costs for their North American copper production increased substantially:
Q3 2011 = $1.42 lb
Q3 2012 = $1.77 lb
This is a 25% increase in cash cost in just one year.  Again, cash costs do no reflect TOTAL COSTS for mining copper.  North America produces about 38% of Freeport-McMoRan's copper and not much gold.  The decline in gold production was in a large extent due to their Grasberg mine in Indonesia.
The drop in Gold production at Grasberg made Freeport-McMoRan's copper cash cost rise in its Indonesian region from ($0.48) to $1.65.  That's correct a (negative) -$0.48 to +$1.65.  This is a staggering $2.00 change in cash cost for their copper in just a lousy year.
Things are going to get a great deal more interesting in the next several years as costs escalate and margins continue to get crushed.