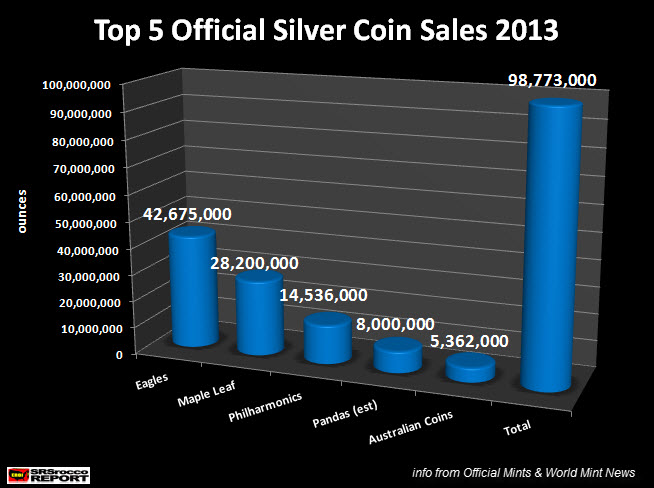 In 2013, the top 5 official silver coin sales topped 98 million oz.
The U.S. mint came in first place by selling 42.6 million Silver Eagles, while Canadian Maples came in second at 28.2 million oz followed by 14.5 million Philharmonics, 8 million (est) Silver Pandas and 5.3 million in Australian Kookaburra's, Koala's and Lunar Silver Snake sales.
Total of the top 5 official silver coin sales were 98.7 million.  Again, these figures represent their top-selling official coins.  This does not include other silver bullion coin and numismatic sales.
Thus, the market purchased 27 times more official silver coins than official gold coins in 2013.
With a high ratio of 27 to 1 set last year, 2014 may break that record in flying colors.  So far this year, the U.S. Mint has sold 19.8 million Silver Eagles compared to 193,000 oz of Gold eagles.  This is a 102 to 1 ratio.