Throughout much of the current bull market, the cartel has attacked gold and silver mercilessly on events that should have major bullish implications for the metals, such as the Nov 2011 pegging of the CHF to the Euro. 
The Cypriot bail-in over the weekend appears to be an anomaly however, as along with the dollar, both gold and silver have gapped up through significant resistance levels on tonight's globex open, with gold bursting through the cartel's cap at $1600, and silver through resistance at $29.
*Update: Cartel has now smashed both gold and silver back under $1600 and $29 respectively, wiping out entire gains from Globex open.

2013 Silver Eagles IN STOCK As Low As $2.59 Over Spot at SDBullion!
The dollar, gold, and silver all gapped up on the Globex open, the USDX made nearly a 70 basis point move to the upside: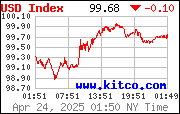 Silver gapped up through $29 to $29.15, where it was then capped and is now being pushed back under $29:
Gold gapped up through $1600 to a 3 week high at $1610, and appears more likely to hold the $1600 level throughout tonight's trading:
In the wake of the Cypriot developments, Jim Sinclair's recent call that gold was about to take out $1600 and would never go below the level again seems highly likely.  If gold can take out $1650 over the next 2-3 days, expect a major short covering rally to ensue, and gold to explode back to the $1800 level, where the next real battle is likely to emerge.   The cartel knows this as well as we do, and this is the precise reason so much effort was given to defend the $1600 level over the past 2 weeks.
The train is getting ready to leave the station.
*Update: cartel is not throwing up the white flag quite yet, gold smashed back under $1600, silver back under $29: