After being pushed back below $1600 and $29 over night, with silver being treated to a spike low near $28.50, gold and silver have just made another vertical move off $1600 and through $29 on the COMEX open.
Silver jumped .30 just through $29, and gold, appearing much stronger- bounced off of what is now support at $1600 to $1610.
1 Oz Gold Buffalo As Low As $74.99 Over Spot At SDBullion.com!

Look for the cartel to attempt to promptly dump silver back below $29.  The $1600 level has turned into support for gold, expect the same for the $29 level in silver shortly:

Previous resistance at $1600 has now turned into support:
The dollar continues to hold its gains from its gap up on Sundays FX open: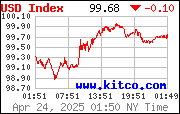 Expect continued volatility throughout the day as the market responds to the latest market rumors regarding the Cypriot bailout.